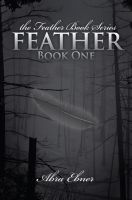 Source: Author


Estella's magical life as an orphan was never easy, and at eighteen, she is finally free. In her desperate attempt to leave the city behind and unravel her strange talents, she flees to a secluded college nestled deep in the forests of the North Cascades. It is here that she hopes to escape her painful life, and forgotten past.
As classes begin, Elle struggles to find her place, until she meets Professor Edgar. Young, handsome, yet terrifying, Elle is suddenly intrigued. Despite her fear of him, she finds the strange attraction mesmerizing, dangerous, and somehow familiar. As their acquaintance grows, she is suddenly drawn further into a life she never knew she lived, in a place that finally feels like home. As her happiness returns, so do the demons of her forgotten past. It is here that she finds herself faced with the sacrifice of her life, and the beginning of a journey deeply rooted in our existence.
Feather takes us into the darkest regions of our soul, into a world where we only dream to exist. Book one of the series introduces us to this new world, a place closely rooted in our dreams, and a place we ve all been. Begin the journey your soul craves, in a world where warrior's spring from the earth and magic is all around us.
FEATHER is a book I've never read before. When I first heard of Abra Ebner's books, I immediatly wanted them. They sounded so good and I kept wondering, where has she been all my life? But once I started FEATHER, I knew Abra Ebner had talent.
I loved Estella's character. She's not obnoxious and she's not the type who hides away from everything. She's strong and courageous. Being an orphan was hard for her, but she was making her way through and met her friend Scott. Scott oh Scott. He was so adorable. I thought it was so cute how much he loved being around her and the secret crush he had for her. And then we meet Edgar. At first, I hated this guy's attitiude. I thought he was just plain rude and kept saying to myself, Estella can't fall for this guy, but as Ebner delves more into this guy, you begin to like him more. Ebner has amazing character development in this books.
The plot was very mysterious. I had no clue what Edgar was. At times, I kept asking myself if he actually was anything 'paranormal'. But to not ruin the suprise, you'll have to read the book to find out about who this mysterious Edgar is. But I'll tell you, you won't be disappointed.
I loved the cover. Ebner is an amazing artist to come up with it and this cover gets 5 stars!
Overall, I enjoyed this book a lot and can't wait to read more of Abra Ebner's work!
♥♥♥♥1/2
-Ana